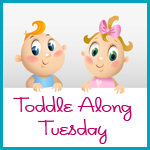 "Oh! I see the light!" Madeline suddenly gasped as she stared out the living room window into the darkness.
Eric and I tore ourselves away from the warm glow of our electronic devices to focus our attention on our daughter.
"Now she's here. At last I see the light!" Madeline began to sing, still gazing out the window.
She turned to me and smiled, "Da tower! Rupunzel in da tower, Mumma! Like dis!" And to illustrate her point, she dramatically rested her cheek upon the crook of her elbow.
Returning her attention to the moon, she sighed deeply. "Like Rapunzel. Rapunzel in da tower," she muttered to herself as she stared out at the moon.
In the opening scenes of
Tangled
, a toddler-sized Rapunzel stands just so as
she
gazes at the floating lights in distance from the window of her tower. Madeline was pretending to be her.
I was amazed that Madeline had picked up on the subtle details of Rapunzel's body motions from this brief scene of the movie, but I guess I shouldn't really be surprised. Madeline is
Tangled
obsessed!
It's my fault, actually. I was the one who watched it with her the first time, and enjoying the movie myself, we watched it a second and a third time. And when Easter rolled around last spring, I was the one to make sure the Easter Bunny left us a copy of the DVD buried underneath a pile of chocolate eggs and jelly beans. I got my daughter hooked.
Now, Madeline asks to watch it at least once a day. It's really the only movie that she can sit and pay attention to all the way through. She sings all the songs. We bought her a Rapunzel doll for her birthday; she likes to brush her hair. She laughs aloud about Flynn Ryder and his crazy antics. She calls every horse we see Maximus.
I've shown her a few other Disney classics:
The Little Mermaid
,
Beauty in the Beast
...but nothing has tickled Madeline's fancy as much as
Tangled
has.
Thankfully, it's a cute movie, so I haven't minded indulging the habit from time to time. At this point, I think we've gone about two weeks without watching it. That might be a new record.
I am slightly worried that the message of the movie seems to be to not listen to your mother because she might be a crazy, controlling hoe-bag in disguise...but it should be several years before Madeline starts to pick up on the subliminal messages at play.
Photo of Rapunzel doll taken by Madeline.
Then again...if she can mimic a ten-second scene perfectly...maybe she's picking up on more than I realized.